Please click on the image for details and price.

Red Painting. 1963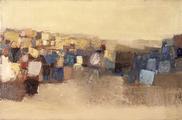 Untitled (Cornish Coast). Early 1960s.
Biography
Jeff Harris, abstract painter and teacher, was born in Leeds, Yorkshire, studying at the College of Art there. Awarded a travelling scholarship to Paris in 1953. From 1956-65 Harris ived and worked mainly in St Ives Cornwall. Exhibitions included Passmore Edwards Gallery in Newlyn, Penwith and Fore Street Galleries in St Ives, Plymouth City Art Gallery and New Art Centre. In 1963 he shared an exhibition with Jane Beeson at Rowan Gallery, in 1965 having a solo exhibition at Mowan Gallery, Manchester. The City Art Gallery there holds work by him, and Arts Council hold his work 'Black, Grey and White' (1959). In the 1970s Harris moved to Australia with his second wife, the Australian artist Gwen Leitch where he taught and painted.