Please click on the image for details and price.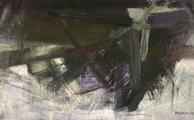 Clodgy Point, Cornwall. 1959
Biography
Anthony Benjamin, painter, printmaker and sculptor, Benjamin trained at Regent Street Polytechnic, before studying drawing with Léger in Paris in 1951. In 1955 he moved to St Ives and held his first one man exhibition at the Newlyn Art Gallery in 1958. A French government award enabled him to study with S.W. Hayter at Atelier 17 in Paris, 1958-9. By the late 1960s Benjamin had embarked on an impressive series of international solo exhibitions, including the Institute of Contemporary Arts, Zwemmer Gallery; Gimpel Fils, London; Art Expo, New York and Tate Gallery, St Ives. His painting 'Inland' was included in the major exhibition 'St Ives 1939 -64' at the Tate Gallery, London, 1985. Numerous public collections hold his work including the Arts Council, Contemporary Arts Society, Tate Gallery, London, Museum of Modern Art, New York, and others in Canada & Japan.