Please click on the image for details and price.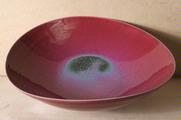 Circular stoneware bowl, oval at lip. c.2003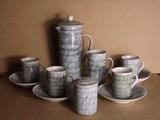 Coffee Set. 1995


Poem Bowl.

Biography
Rupert Spira studied at the West Surrey College of Art and Design. He then worked as an apprentice at Michael Cardew's Wenford Bridge Pottery from 1980 to 1982. His approach to ceramics sets out to explore the relationship between consciousness and form, between the mind and the object. His 'Poem Bowls' are thrown on the wheel, covered in white glaze and then a black slip, which, when dry is scratched away to reveal lettering which shows through as white against black. This process of inscribing or embossing letters in to the work serves to change the way the object is viewed. The object is seen not only as a vessel or container in the physical sense but also as a carrier of meaning. Rupert Spira's poems are taken from works by Kathleen Raine, a 2Oth Century English poet and Jalalludin Rumi, a 13th Century Persian poet.