Please click on the image for details and price.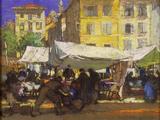 Le Puy, Place du Plot. c. 1920s-30s

Biography
R.I., R.S.W., R.O.I.,R.B.A., R.B.C., P.S.
Painter in oil, water-colour and pastel still life, architectural subjects, interiors and figures. Born in Brighton in May 1874. Richter studied furniture design at Bath School of Art, and was in business in Bath as an architect and designer from 1895-1906. He then went to London where he studied at Lambeth and the London School of Art under Brangwen and J.M. Swan. He exhibited widely from 1906 both at the R.A. and the other leading London galleries, and in the provinces. He was elected R.B.A. in 1910, P.S. in 1916, R.O.I. in 1917, R.I in 1920, R.B.C. in 1927, R.S.W. in 1937, and is represented in many public collections.
Richter's principle works include The City Portals, Rebuilding Putney Bridge, Floral Decoration and The Rag Fair-Caledonian Market. He published Flower Painting in Oil and Watercolour and other works.
He lived in London for many years and died in August 1955.