Please click on the image for details and price.

Spun by Light. 1979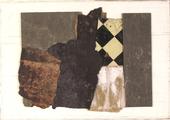 Untitled. Mid 1970s/early 1980s
Biography
An artist and influential teacher, Harry Thubron's training was at Sunderland School of Art, 1933-38, then the Royal College of Art 1938-40. His distinguished teaching career included Leeds College of Art, 1955-64 and Leicester College of Art, 1966-68, where he was head of the painting school. He taught part-time at Goldsmith's School of Art from the early 1970s. Amongst his solo exhibitions were Peterloo Gallery, Manchester, 1976, and retrospectives at St Paul's Gallery, Leeds, 1985 and Goldsmiths' College Gallery, 1986. Originally a figurative artist, Thubron moved towards abstraction. He worked with resins, wood and metal until the mid-1960s and then primarily worked in collages. In early 2007 Austin/Desmond Fine Art, London held a near sell-out solo exhibition of Thubron's work, most of which was acquired by Damien Hirst. The Arts Council and British Council hold examples of his work.