Please click on the image for details and price.

Composition - Red, yellow and blue. c. 1964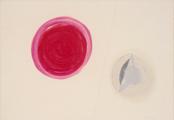 Untitled. 1975
Biography
Painter of landscapes and abstracts, born in London but brought up in Ditchling, Sussex. His father was a doctor and Wells qualified in medicine at University College Hospital, 1925-30. While a medical student he studied in evenings at St Martin's School of Art, 1927-8, on a visit to Cornwall meeting the artists Ben Nicholson and Christopher Wood. After working in a hospital for six years, Wells had a medical practice in the Isles of Scilly, 1936-45, when he moved to Newlyn and began painting full-time in Stanhope Forbes' old studio. Wells had first showed in the Daily Express Young Artists Exhibition in 1927; he had his first one-man show at Lefevre Gallery in 1946. In that year he was co-founder of the Crypt Group in St Ives, three years later helping to found the Penwith Society. In 1950-1 he worked briefly with Barbara Hepworth, the sculptor. Won Art Critics' Prize in 1958. Wells showed at the Wills Lane Gallery , St Ives, in many group exhibitions in Britain and abroad and had several one-man showsat Waddington Galleries and Durlacher Gallery, New York. Tate Gallery St Ives held an important one in 1998. Jonathan Clark Fine Art showed Wells' works on paper on 2005. Arts Council and Tate Gallery hold his work.