Please click on the image for details and price.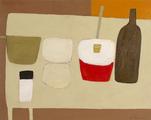 Bills Table.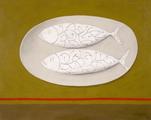 Fancy Fish.

In the Shadow of the Temple. 1991

Junk Room Table.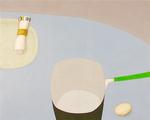 Laid for Breakfast.

Orange Pan.

Biography
Robinson trained at Bournemouth College of Art in the 1960s, before a career in advertising and music. Since 1990 he has concentrated full-time on painting and has taken part in numerous mixed exhibitions including Gordon Hepworth Fine Art; Belgrave Gallery, St Ives; Stour Gallery;Lena Boyle Fine Art, London amongst dozens of others. His many one-man shows include Cadogan Contemporary, London, 2001; Mullan Gallery, Belfast, 2003- 09;Thompsons Gallery, London, 2008. His work is in many private and public collections, including those of David Puttnam and George Michael.