Please click on the image for details and price.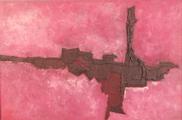 Red Presence. May 1957
Biography
Painter of abstract compositions, William Gear was born in Methil, Fife, Scotland. He studied at Edinburgh College of Art 1932–7 and the Edinburgh University Fine Art Class 1936–7, under Gillies, Maxwell and McTaggart. In 1937–8 he won a Travelling Scholarship and worked in Paris under Léger 1937, before travelling in Italy, Greece and the Balkans. His war service was in the Middle East and Italy 1940–5; and with the Monuments and Fine Art Section in Germany 1945–7. Gear's first one-man exhibition was in Siena, September 1944. He lived in Paris 1947–50; then settled in England, exhibiting at Gimpel Fils 1951 and subsequently. He was a member of the London Group in 1953. Curator of the Towner Art Gallery, Eastbourne, 1958–64; Head of the Fine Arts Department, Birmingham College of Arts and Crafts 1964-75.