Please click on the image for details and price.

Dialogue IV. 2003

Isikia. 2012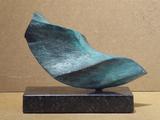 Marine Bird. 2005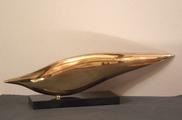 Marine Flow. 2012
Omaha Wave. 2012

Paleos IV. 2004

Petal III. 1974

Vertical Wave. 2001
Biography
Margaret Lovell, creator of abstract sculpture with figurative allusions, printmaker, draughtsman and teacher, was born and lives in Bristol area. She studied at West of England College of Art 1956-60, with Ernest Pascoe, then at Slade School of Art 1960-2 under A.H.Gerrard. Learned techniques in foundry. Lovell gained an Italian State scholarship 1962-3 and a Greek Government scholarship 1965-6. Taught at Portsmouth College of Art, 1963-5. Elected RWA in 1972 and a fellow RBS in 1973. Took part in many mixed and group shows including Arnolfini Gallery, Bristol; Mignon Gallery, Bath; Wills Lane Gallery, St Ives and abroad. Showed solo with Marjorie Parr Gallery from 1965, having first retrospective at Plymouth City Art Gallery, 1972. The Cornerstone Gallery, St Ives showed Lovell's work in 2003 and a further retrospective exhibition was held in 2009 at the Porthminster Gallery, St Ives.
The Arts Council and Plymouth and Bristol Public Galleries hold examples. A monograph 'Margaret Lovell: Sculptor', with text by Peter Davies, was published by Sansom & Co in 2009. Awarded Honorary Doctorate of Letters from University of Leicester July 2012.