Please click on the image for details and price.

Corona . 1962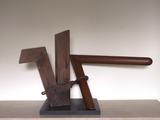 Coupler. c.1960s


Untitled sculpture. c.1958

Biography
Roger Leigh was born in Broadwell, Gloucestershire. Sculptor, architect, artist in photomontage and teacher, he served in the Royal Airforce during WWII, and then studied architecture at Liverpool University. He was trained in town planning, 1947-53, but began sculpting in 1948 after seeing the famous Battersea Park open-air sculpture exhibition. From 1953-4 Leigh was assistant to Barbara Hepworth,and joined the Penwith Society of Arts. After working as an architect for London County Council, 1954-7, sculpting in his spare time, Leigh returned to Cornwall in 1957, serving some months with Hepworth again and working part-time as an architect in Truro. In 1958 he exhibited at the Drian Gallery in London along with Denis Mitchell & Brian Wall. He served as Chair of the Penwith Society, was involved in securing an old factory in Back Road West that would become the society's 'Penwith Gallery.' From 1960-63 he taught at Treswithian School in Camborne under Jack Pender before moving to Wiltshire in 1966, the year he began teaching at Exeter School of Art. From 1964 he held a series of one-man shows, including New Vision Centre Gallery, London, Arnolfini Gallery in Bristol and Portsmouth City Art Gallery.