Please click on the image for details and price.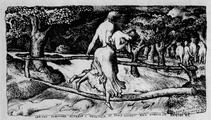 The Flood. 1829
Biography
Calvert was born in Appledore, near Bideford in Devon, and after a spell in the navy, studied art at Plymouth and the Royal Academy (1824). His early work was greatly inspired by William Blake, and he became a member of the Blake-influenced group known as The Ancients which met at Samuel Palmer's in Shoreham, Kent in the later 1820s and early 1830s. Amongst Calvert's finest works are exquisite miniature wood engravings which date from this early period; his wood and copper engravings all date from 1827-31.
Much of his subsequent life was spent with his wife Mary, in Dalston and nearby Hackney, a short distance from London. His work from this later period shows a classical influence. The British Museum has some 65 of his drawings, and about 40 prints, as well as many of the printing blocks and plates for them.