Please click on the image for details and price.

Gazing Woman. c. 1950s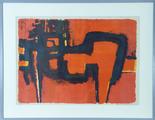 Red and Black Abstract. 1958


Torso No.1. 1957


Two Women Talking. c. 1950s


Untitled. 1958


Untitled. 1961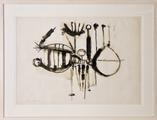 Untitled abstract. 1965

Biography
Henry Cliffe was one of a remarkable group of artists (including William Scott, Sir Terry Frost, Bryan Wynter, Howard Hodgkin, Peter Lanyon and Tom Phillips) that made up the teaching staff of the Bath Academy of Art at Corsham Court in Wiltshire in the 1950s and 1960s. At that time Corsham was one of the principal centres of artistic tuition in England. Though his reputation has not reached the heights that some of his fellow teachers achieved, in the decades following the war Henry Cliffe was hardly less well known than his Corsham colleagues. He represented Britain with Ben Nicholson, Francis Bacon and Lucien Freud, at the Venice Biennale in 1954, returning in 1960 in the company of Pasmore and Paolozzi. His first one-man exhibition was at the Redfern Gallery in 1956. He continued to exhibit widely in both Britain and abroad throughout the 1950s and 60s, and won a number of international awards.