Please click on the image for details and price.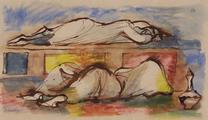 Sleeping Figures, Cairo. 1941-42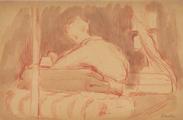 Soldier in Tent Writing Letter. 1941-42
Biography
Painter, printmaker, theatre designer, teacher and writer, born in London, where he lived for much of his life. Studied at Byam Shaw School, 1923-4, briefly at Royal Academy Schools in 1924, then at Slade School of Fine Art, 1924-6, and in Paris, 1926-8. In the period 1929-34 assisted Duncan Grant and Vanessa Bell. Showed with the London Group from 1929, becoming a member in 1937, and helped establish Artists' International Association the year before. Had first solo show at London Artists' Association, 1932. For part of World War II was involved in camouflage work in Middle East. He taught at Chelsea School of Art, 1932-9, and 1946-50; taught stage design and painting at Slade, 1950-8; was head of fine art department at Camberwell School of Arts and Crafts, 1958-65. Retrospective exhibition at Whitechapel Art Gallery, 1963. Represented in the Tate Gallery, the Imperial War Museum and many other public collections.